GreenspaceNI Map
16th June 2023
A freely available digital map showing all publicly accessible green and blue spaces and trails across Northern Ireland.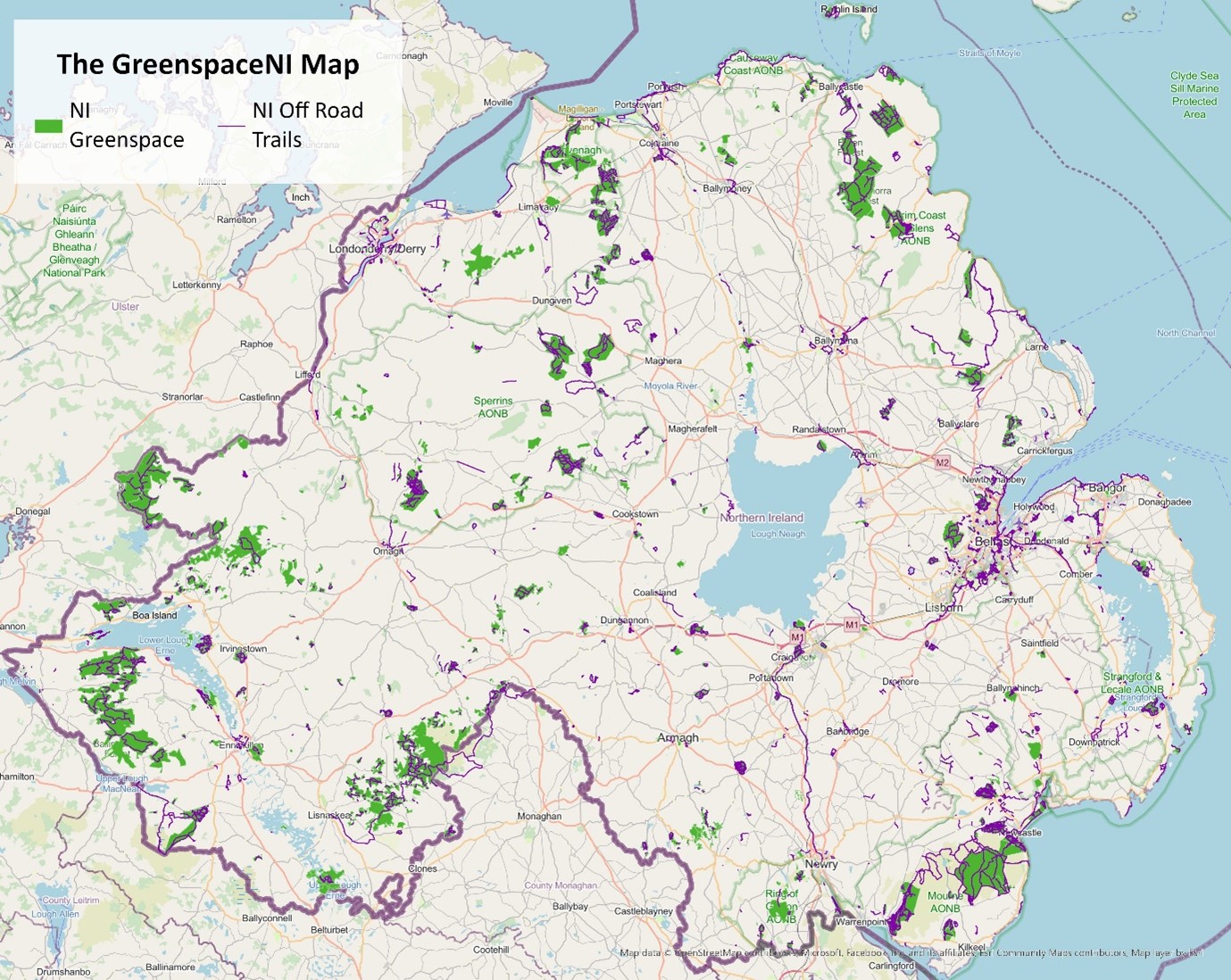 Outscape was provided grant aid investment from the Department of Agriculture, Environment and Rural Affairs (DAERA) and the Department for Infrastructure (DfI) on behalf of the cross-departmental Strategic Outdoor Recreation Group (SORG) to create a map of all greenspace and off-road trail assets with public access in Northern Ireland.  
It has been designed to enable: 
The proposed target of 'An annual increase of households within a 5-minute (400m) walk of quality green/blue space (greater than 2 hectares)' within the Environment Strategy,

Northern Ireland Environmental Statistics Report

, and future strategies

to be objectively measured;

 

Public bodies, community groups and landowners to design and build in accessible quality greenspace into local place shaping through identifying priority areas for greenspace access and enhancement;

 

Stakeholders a variety of ways to engage with the map (detailed below).

 
Launched in June 2023, Outdoor Recreation Northern Ireland invites you to explore GreenspaceNI. 
The mapping tool comprises of three layers: 
NI Greenspace Layer

 

NI Greenspace Access Points

 

NI Off-Road Trails

 
Detailed information on GreenspaceNI is available in the GreenspaceNI Map Product Overview and GreenspaceNI Map – Metadata. Please see Produce Overview for full definitions of greenspace and off-road trails. 
Usage and Disclaimer 
The GreenspaceNI map has been created with the most recent data available at the time of publishing. 

 

Best efforts have been made in the production of the GreenspaceNI Map to ensure the accuracy of the data, however as the data has come from a range of capture methodologies and scales, they may not reflect actual positional accuracy on the ground. There may also be a time lag between the content of the map at the time of creation and changes made on the ground.

 

These layers should not be used to determine the exact boundaries of land ownership. Where 'source' of data is outlined, it should be noted that this is the supplier of the data input, it does not define ownership of the area. However, in some cases the source may be the landowner also. 

 

Some assumptions and generalisations have been made to make the mapping process more feasible – polygons, points and lines have been aligned to Ordinance Survey NI maps. Exact details of each polygon, point or polyline have not undergone field validation so discrepancies may occur.

 
Although the layer only includes land where the public have access, not every polygon or polyline has complete public access, and some areas may have restricted access. Outdoor Recreation Northern Ireland and its providers of open and derived data will not be held responsible for any loss, damage or inconvenience of any nature caused as a result of any inaccuracy or error within the data.

 

The currency of the product is

May 2023

and has an annual update cycle.

 
Feedback 
Think somewhere is missing from the data? Spot an inaccuracy in the attribution? Make us aware by emailing emma.taylor@out-scape.com 
If you have any further questions about the product, or would like to get in contact with a member of our support team, please reach out via our website. 
Where to access the map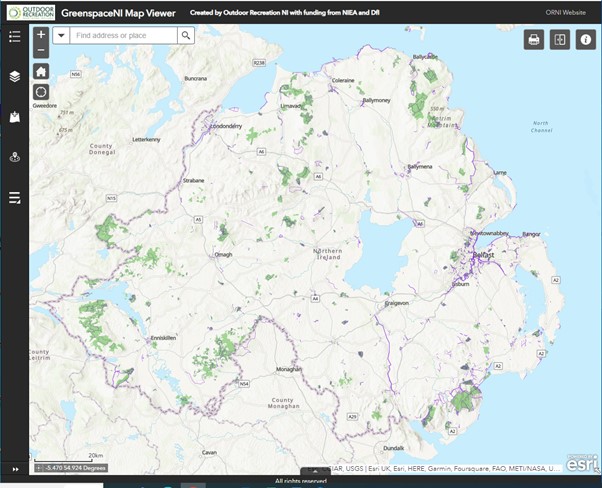 Greenspace NI Map Viewer – A easy access map viewer aimed at community groups to undertake a range of map viewing and analytical functions.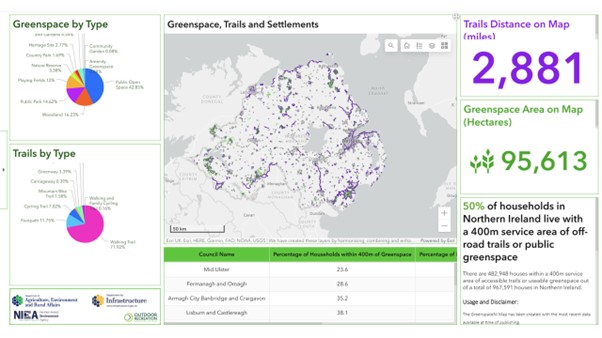 Greenspace NI Dashboard – conveys GreenspaceNI map information using intuitive and interactive data visualisations – great for discovering interesting statistics!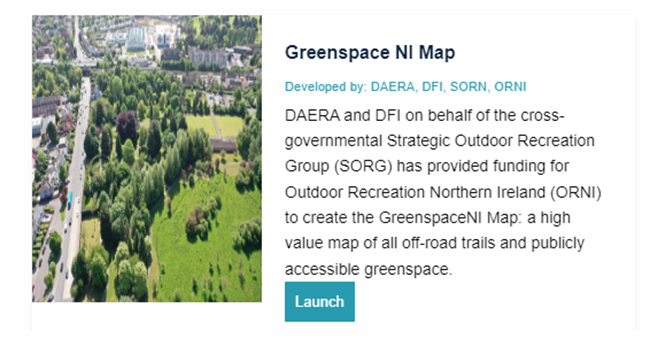 Spatial NI – aimed at organisations with geographical information software and expertise. 
*The public should continue using OutmoreNI to find trails and venues to visit in Northern Ireland. 
User Guides 
Click here to download the Map Viewer User Guide
Click here to download the Dashboard User Guide
High Level Access to Greenspace Analysis 
Data from the People in the Outdoors Monitor for Northern Ireland (POMNI) revealed that access to greenspace is not equal across the population and that people who live closer to greenspace visit the outdoors more. The population-wide survey showed that the highest number of visits were reported by those living within a 5-minute walk of greenspace, with participation rates dropping steeply for those living more than a 20-minute walk from their nearest greenspace.  
Given this the initial analysis focused on access to greenspace at 400m, 1km, and 2km distances. Our analysis of these proximity markers using network analysis for greenspaces and shape preserving buffers for trails shows that currently: 
49.7 % of households in NI are within 400m of greenspace >2ha and trials

 

74.8 % of households are within 1km of greenspace >2ha and trials

 

83.1 % of households are within 2km of greenspace >2ha and trails.

 
Further analysis reveals that 59% of households within urban areas are within 400m of greenspace or trails, whereas this falls to 10% of households within rural areas.  
View this Storymap for more topline insights from GreenspaceNI map for Northern Ireland. 
Data providers 
GreenspaceNI is built using refined datasets from over 20 organisations. We will continue to work with these organisations to verify and add additional data to make the map even more useful as a planning tool.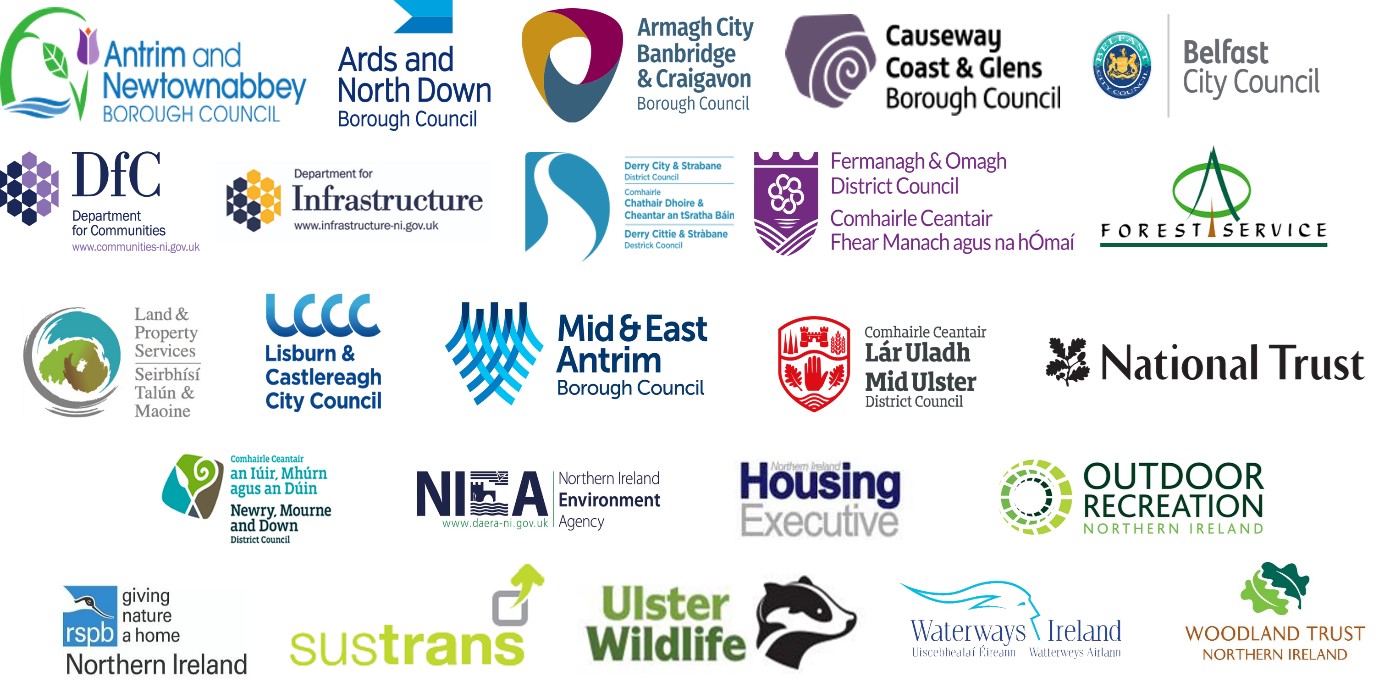 Future content  
In future the GreenspaceNI map will include mapping and analyses in the following areas: 
Access points for greenspaces between 0.5-2 hectares 

 

Access points for trails

 

Accessibility and quality data for assets.

 

Launch Video:
Watch the full GreenspaceNI Map launch here: https://youtu.be/rnsI8fL3zls